One-phase - 230V / Twist CW1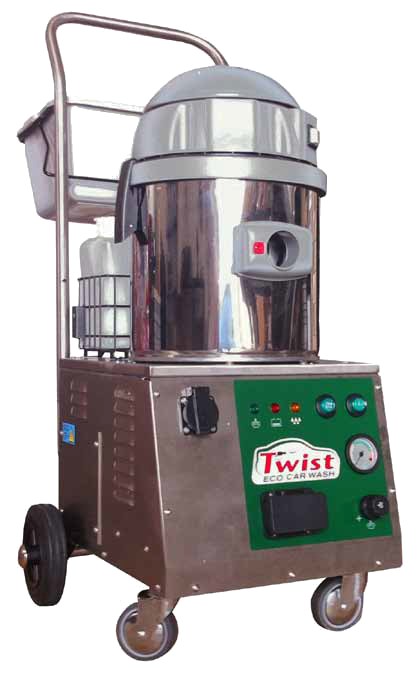 CW1
Description:
Devices of CW1 series are designed for professional cleaning. CW1 apply dry steam and extraction with detergent. Steam cleaners of Steam Max series are characterised by modern technology and versatility of application.
Additional accessories are designed so that you can clean any surface.
---
Characteristic:
protection against overheating of the boiler

water level sensor

control of the amount of steam

possibility of adjusting the steam humidity (dry or wet)

One steam hose

1 steam gun

optional detergent spray
---
Applications:
Restaurants, bars, pubs

hotels, fitness clubs

resort hotels, saunas

gym halls

health care

industrial environments

gyms, private offices and veterinary facilities, car washes, etc.
---
Vacuum (only VAC models):
industrial "dry-wet" - the possibility of vacuuming liquids

innovative filter that eliminates the need for using bags

works as a set or separately

cleaning and disinfection of all types of upholstery, including domestic

accessories sets enabling: vacuuming, washing and cleaning of upholstery, washing floors, tiles, windows, etc.
---
Technical parameters:
| | | |
| --- | --- | --- |
| | Unit | CW1 |
| Tension-Frequency | V-Hz | 230-50 |
| Power | kW | 3 |
| Power consumption | A | 13 |
| Startup time | min. | 5 |
| Boiler capacity | l | 2,3 |
| Boiler material | type | AISI 304 |
| Boiler power | kW | 1,5 + 1,5 |
| Boiler temperature adjustmen | yes/no | no |
| Steam production | g/min | 110 |
| Steam output adjustment | type | manual |
| Working pressure | bar | 6 |
| Stem temperature in boiler | 165 | |
| Water output adjusment | yes/no | no |
| Water output | yes/no | yes |
| Detergent output | yes/no | yes |
| Water tank capacity | l | 5 |
| Overflow tank | yes/no | yes |
| Detergent tank capacity | l | 2 |
| Body material | type | inox |
| Net weight | kg | 49 |
| Dimensions | l x w x h cm | 36x52x100 |
| Packaging dimensions | l x w x h cm | 57x37x140 |
| Weight with packaging | kg | 50 |
| Packaging | type | carton |
| Vacuum | yes/no | yes |
| Effluent tank capacity | l | 15 |
| Vacuum power | kW | 1 |
| Vacuum filter | type | poliester |
| Dry and wet | yes/no | yes |